European Day of Languages speakdating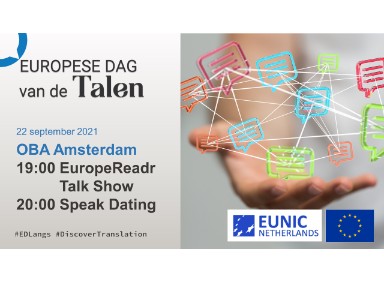 Let's celebrate the European Day of Languages! Join us for an engaging Speak-Dating experience, introduced by a Talk Show on the 'Future of Living', with international thinkers and authors from all over Europe.
The European Day of Languages promotes the rich linguistic diversity of Europe. While this day aims to draw attention on thenumerous languages spoken in Europe, it strives to emphasise the value and advantage of learning new languages. To celebrate this precious heterogeneity, EUNIC Netherlands (the network of European cultural institutes), the Directorate-General for Translation of the European Commission, and OBA Amsterdam are collaborating to host a Talk Show where experts from literature to architecture will discuss about sustainability in the multi-faceted European setting, followed by Speak-Dates with native speakers from every side of the continent. Get to know more about European countries' food, traditions, and life styles through live and virtual language exchanges.

The speakdate consists of two rounds:

Sign up speakdate : 19:00-19:45
Sign up speakdate : 19:45-20:30
Sign up speakdate : 20:30-21:15


Talkshow OBA Theater and exhibition
On this day it is also possible to attend the talk show about the future of living.
For more information see the link below:
Talkshow 'Open a book for a better future': Oba Theatre 19:00-20:00
Also view the exhibition Open a book for a better future.
Bereid je voor op je bezoek aan de OBA en doe de gezondheidscheck voordat je naar de OBA komt.
OBA Oosterdok | Oosterdokskade 143 | 1011 DL Amsterdam
T: 020-5230900 | E: klantenservice@oba.nl