The future of living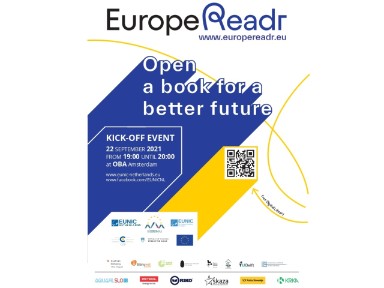 The Future of Living Talk show with writers and thinkers on the Future of Living & the Grand opening of the #EuropeReadr public reading space.
How do you imagine your future? What does the world you want to live in look like? With a climate crisis, shifting global powers and artificial intelligence changing the world as we know faster than ever: how can we imagine a future, let alone keep a grip on it?
Literature – like cinema, architecture and art - is crucial in helping us imagine our future. How can it help Europeans imagine our future and form a shared vision? What should we think about when thinking of our future? What works better: apocalyptic warnings or visions of paradise? What are the books all Europeans – from politicians to children – should have on their nightstand?
With a panel of great European writers and thinkers on the future of living and with you we explore these questions in a dazzling talk show.

Panellists:
Ms Marieke Eyskoot, sustainability expert, speaker, presenter, writer and consultant,
Mr Drago Jančar, writer, Slovenia, #EuropeReadr (via zoom),
Mr Marek Šindelka, writer, Czech Republic, #EuropeReadr,
Mr Georg Vrachliotis, Prof. at TU Delft / Faculty of Architecture and the Built Environment, and moderated by Mr Rogier Elshout.

Organiser: EUNIC Netherlands with partnersFree entry.
Registration is required.

The event will also include a speakdate with 15 European languages, check: European Day of Languages speakdating (oba.nl)
And the inauguration of the Europe Readr Future of Living Pavilion (public reading space) made by the students of TU Delft / Faculty of Architecture and the Built Environment, which will adorn OBA Amsterdam until 4 October and then travel to the library in Emmen (De Bibliotheek Emmen)

Bereid je voor op je bezoek aan de OBA en doe de gezondheidscheck voordat je naar de OBA komt.
OBA Oosterdok | Oosterdokskade 143 | 1011 DL Amsterdam
T: 020-5230900 | E: klantenservice@oba.nl