​​Klassiek op zondag │ Duo Font-Rouy  ​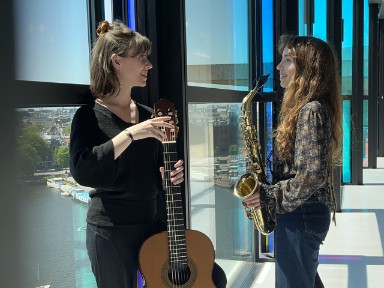 Enjoy your weekend with the free Sunday morning concerts by students of the Conservatorium Amsterdam at OBA Oosterdok! Come and listen to the Duo Font-Rouy (saxophone and guitar).
​​Duo Font-Rouy is based in Amsterdam formed by saxophonist Aina Font and guitarist Laura Rouy.
​After years of playing together they became a multifaceted duo; classical and folk repertoire, contemporary and theatrical music…
​"Creating a performance is not about putting beautiful music together, but about creating a link and an atmosphere that connect all the pieces, bringing a full experience to the audience,​ treating it almost as a haute cuisine tasting, with a special care of contrasts and balancing tensions"
​The very different nature of both instruments is one of the strongest characteristics of this duo, enhancing the best qualities of each in a mimic play, melting in one unique sound, uncommon yet with endless possibilities.
​
​PROGRAM
​Rêverie, C.Debussy
​Danse Espagnole , M. De Falla
​Pluie Oblique, Aristide Moari
​Kokoro, J.D Michat
​Sonate F. Rebay
​Histoire De Tango (II and III) Piazzola
​​
Come on time to be sure of your place on the stairs to the OBA Café and enjoy!
OBA Oosterdok | Oosterdokskade 143 | 1011 DL Amsterdam
T: 020-5230900 | E: klantenservice@oba.nl