Klassiek op zondag │ Indira Nezami (piano)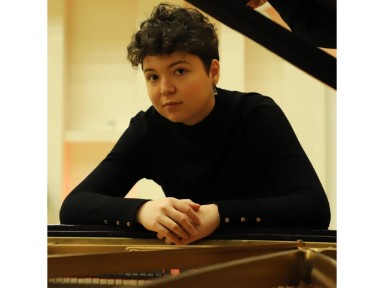 Enjoy your weekend with the free Sunday morning concerts by students of the Conservatorium Amsterdam at OBA Oosterdok! This time a piano solo by Indira Nezami.
Indira Nezami (2000) started taking piano lessons at the age of five, in Romania. She moved from her hometown to Bucharest, in order to live in a richer musical environment. After finishing high-school, she was accepted at the Conservatorium van Amsterdam, where she is currently studying for her Bachelor degree with David Kuyken.
Indira's passion for music developed into a lifestyle, as she is often performing both in the student concerts of the Conservatorium and in other engagements. She has been invited twice in the past seasons to have recitals in the Small Hall of the Romanian Atheneum in Bucharest, which were broadcasted on Radio Romania Muzical. She participated in various masterclasses in Amsterdam with renowned musicians, such as Alexander Kandelaki, Hannes Minaar, as well as a masterclass on historical instruments organised in collaboration with the 'Fryderyk Chopin' Institute from Warsaw, when she worked with pianist Janusz Olejniczak.Since october 2020 she has the possibility to practice at home on an Ibach grand piano, on loan from Stichting Nationaal Muziekinstrumenten Fonds.
Program
J.S.Bach-Prelude and Fugue in g-sharp minor, WTC1
N.Kapustin-Concert etude op.40 no.3 'Toccatina'
F.Chopin-Mazurka op.33 no.4 in b minor
F.Chopin-Etude op. 25 no.11
F.Chopin-Nocturne op.62 no. 2 in E major
S.Rachmaninoff- Variations on a theme of Corelli, op.42
Come on time to be sure of your place on the stairs to the OBA Café and enjoy!

OBA Oosterdok | Oosterdokskade 143 | 1011 DL Amsterdam
T: 020-5230900 | E: klantenservice@oba.nl