Language Diversity in Amsterdam - Growing up in a multilingual family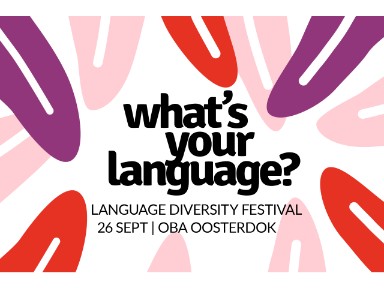 The European Day of Languages inspired The Foundation Polish Culture to organise an event encouraging the use of parental native languages and to discuss multilingual upbringing and education.
Speakers

• Maaike Verrips Parents in multilingual families are sometimes insecure about important questions: How can I help my child learn Dutch? How many languages can children learn simultaneously? What is the relationship between multilingualism and language delay? www.meertalig.nl

• Ellen-Rose Kambel A Language Friendly School is the answer to increasing multilingualism in education: the result of people around the world looking for work, joining their loved ones or trying to escape war or conflict. A Language Friendly School welcomes and values all languages spoken at school. www.languagefriendelyschool.nl

• Ute Limacher-Riebold Ute is an author of the books: 'The Toolbox for Multilingual Families'. and 'How to raise a bilingual child'. She will talk about educating and supporting the language development of children who speak more than one language. Children don't become multilingual by 'magic'. It is an ongoing process that takes many years and that requires consistency, commitment and creativity, not only from parents but also from family, teachers and friends. www.utesinternationallounge.com

• Mindy McCracken/Josh Martin Opening the door to your students' languages: the power of translanguaging in multilingual classrooms. Creating a multilingual learning space, enables students to use what they already know to unlock both new language and content learning. (The International School of The Hague)

Event host: Milka Yemane

Panel discussion with the participation of the speakers Polish Culture NL (www.polishculture.nl) and Stichting Taal naar Keuze www.taalnaarkeuze.nl. This event is for multilingual families, policy makers, professionals working in a multilingual environment, teachers with multilingual classes, teachers in language schools and anybody facing the challenge of bringing up multilingual children.
Voor bezoek aan onze theaterzalen (OBA Theater of OBA Forum) is een coronatoegangsbewijs en een legitimatiebewijs verplicht. Kom alsjeblieft op tijd. Vanwege controle bij de deur kan de rij wat langer zijn dan normaal.
De zaal is vanaf 30 minuten voor aanvang open.

OBA Oosterdok | Oosterdokskade 143 | 1011 DL Amsterdam
T: 020-5230900 | E: klantenservice@oba.nl