Openingevent exhibition Altar de los Muertos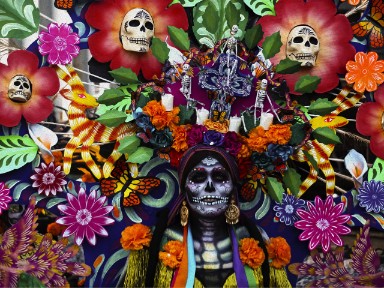 The Day of the Dead, declared by UNESCO as an intangible Heritage of Humanity, is a traditional Mexican celebration which takes place every year on November 2nd.
The festivity, a result of the syncretism between pre-Hispanic and Western beliefs, celebrates the transitory return to Earth of deceased relatives and loved ones. More recently, new traditions have developed around the Day of the Dead. One of them is parades which are held every year across the world to celebrate this festivity.
On the 5th of November, the Embassy of Mexico in The Netherlands is organizing a boat parade through the canals of Amsterdam with about 80-100 guests on two boats adorned with traditional decorations and mariachi music on board.

Altar de los Muertos
The boat parade will be followed by the inauguration of the 'Altar de Los Muertos' by Ambassador H.E. José Antonio Zabalgoitia at around 17:30. The Altar will be dedicated to commemorate the tenth anniversary of the Mexican writer's Carlos Fuentes death.

On the digital screen in the hall, we will be exhibiting the photographic work of the Mexican Photographer Mauricio Silerio, called La Muerte en la Piel (Death in the Skin), featuring photographs alluding to the Day of the Dead tradition.

The Altar de Muertos at OBA is curated by Dr. Martha Montero-Sieburth, an educational anthropologist; Proyecto Tule, a group dedicated to the maintenance of the Spanish language and Mexican culture in the Netherlands (Julieta Cook, Rosanna de Bruin, Maria Eugenia Calvo, Angela Baez) and Ana Priscila Rodriguez, multimedia artist, creator, and conceptual photographer.

OBA Oosterdok | Oosterdokskade 143 | 1011 DL Amsterdam
T: 020-5230900 | E: klantenservice@oba.nl