​​Alliance Française Amsterdam │ OPENING Exhibition - ​ Saint-Exupéry, Aviator Author of The Little Prince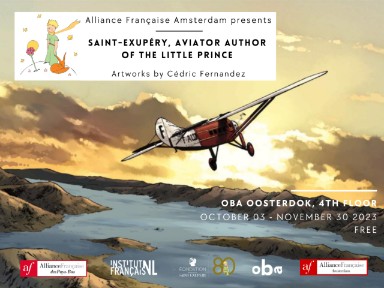 In the context of the exhibition on Saint-Exupéry, the Alliance Française Amsterdam is organizing an exclusive afternoon with the artist Cédric Fernandez.
The program starts with a talk with Cédric Fernandez and the Antoine Saint-Exupéry Foundation. Cedric will do a live drawing performace.
The official opening of the exhibition by the French Ambassador on the 4th floor starts at 16:30. With booksigning and drinks.
Program in ENGLISH

OBA Oosterdok
Oosterdokskade 143 | 1011 DL Amsterdam
T: 020-5230900 | klantenservice@oba.nl